What we look for as an employer
In order to continuously improve our high standards of quality and process excellence, we want colleagues with passion, team spirit and initiative, along with a willingness to keep learning. Enthusiasm, willingness to perform and commitment are the essential requirements the Kläger Group demands. Our employees are our know-how and our potential. To allow all of our colleagues to perform to their best ability, the Kläger Group practises a fair, family-friendly, social staffing policy.
Internships & qualifications
Doing an internship or completing a diploma, bachelor's or master's thesis with us is an opportunity to gain some initial practical experience and make important contacts for your future career.
Apprenticeships
Many careers begin with an apprenticeship. We offer both commercial and technical apprenticeships here at Vema.
Direct hires
The Kläger Group offers a wide range of opportunities for professional development. We are always happy to welcome new colleagues, both in the technical and commercial fields.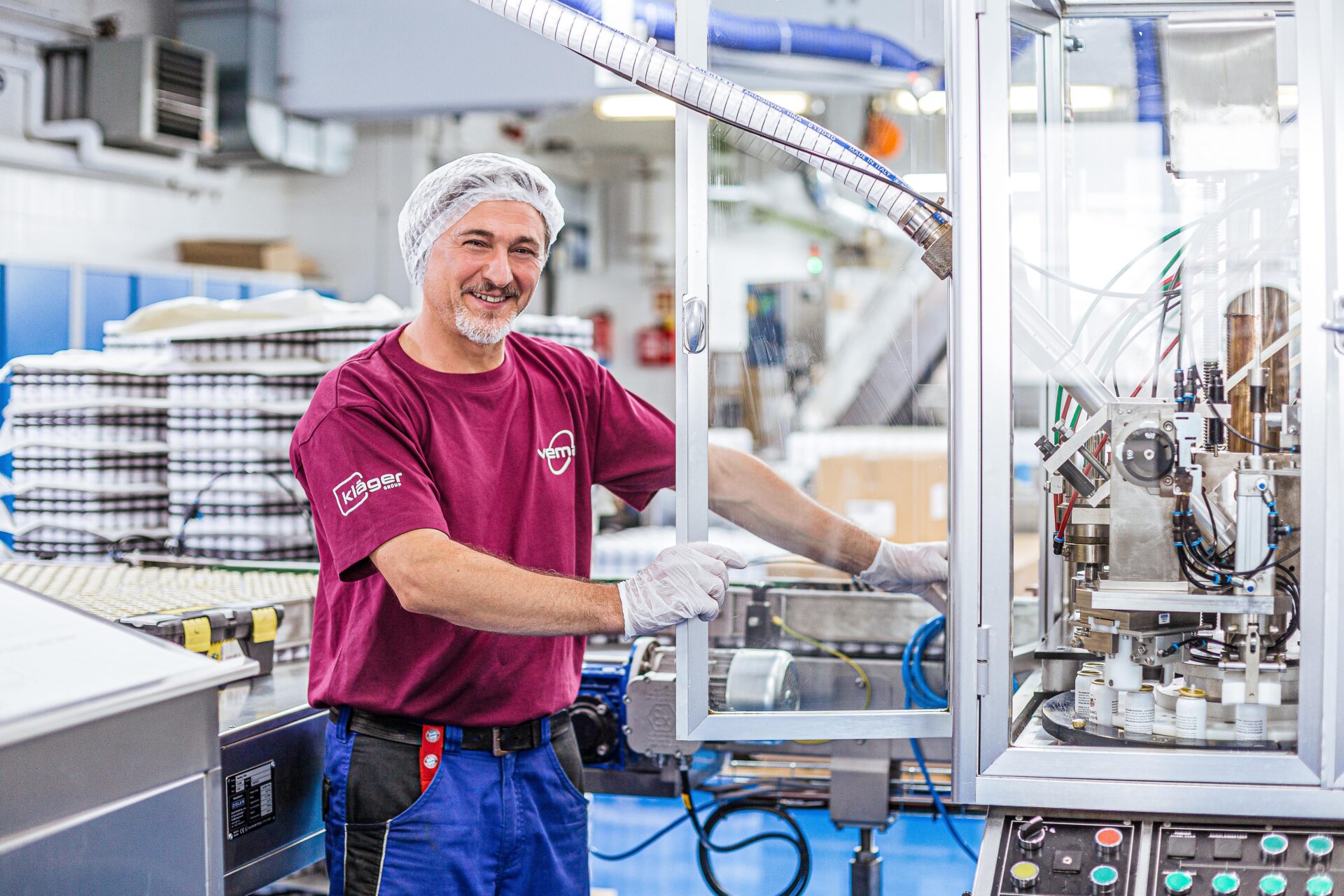 Advantages for our staff
A good balance of career, family and free time: flexible working hours in full time/part time positions
Complete overtime compensation – a philosophy of "every hour counts"
Job security with good prospects
Attractive salaries at market rates
Holiday pay and Christmas bonus, plus company pension plan
30 days of paid holiday; working from home or away from the office can be negotiated
Modern digital time tracking with chip cards
Certified processes and occupational health and safety
Systematic process structures in compliance with DIN ISO 9001 and quality standards in compliance with IFS HPC, DIN ISO 13485, DIN ISO 22716
Modern machines focused on maximum safety and highest standard of hygiene in the workplace
Tailored personal and professional development through training programmes
Period of job orientation is tailored to the individual's needs
Soft factors to make a difference
Integration in the globally active Kläger Group
Flat hierarchies and a personal work environment with a strong sense of belonging
The company is run by the third generation of the Kläger family
Flexibility and speed when making strategic and operational decisions
Focus on long-term, sustainable and successful development
Low staff turnover
We are open to learning from mistakes and set ourselves high standards of continual improvement