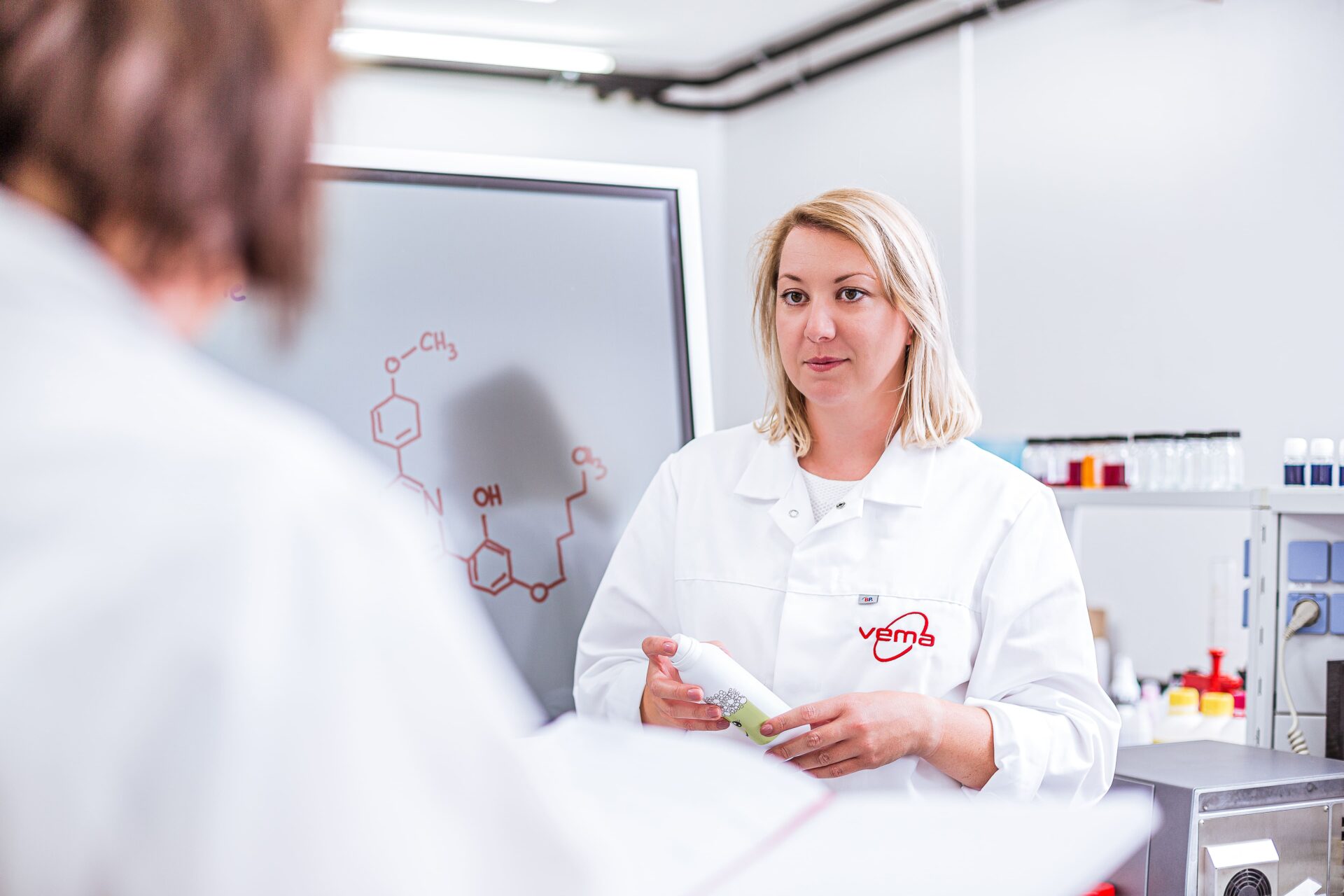 Consultancy & service
We are always on hand to share our expertise and will support you throughout the whole project – from the initial idea and its development and manufacture to filling and shipping the products, as well as ensuring their proper placement on the market. It goes without saying that we will sign a non-disclosure agreement as the first step towards our successful collaboration.
Profit from our many years of experience and our promise of quality products made in Germany. We will work together to find fast, flexible, pragmatic solutions to meet your requirements. We sincerely appreciate the trust you show in us – we consider it the bedrock of our partnership.
OUR PURCHASING DEPARTMENT PROCURES PACKAGING AND RAW MATERIALS FOR YOU
Procurement of packaging containers: aerosol cans made of tinplate or aluminium (100% PCR is available upon request), a variety of spray/foam nozzles and caps; bag-in-box and refill pouches in a range of sizes
Procurement of packaging material
Procurement of raw materials
WE PAY GREAT ATTENTION TO QUALITY
Incoming goods inspection and proper interim storage of the raw materials and packaging containers
Carrying out of microbiological tests in collaboration with external accredited testing laboratories
Incoming goods inspection, in-process controls and final inspection in compliance with our in-house QMIs (quality management inspection); quality controls during manufacture, including the use of inline checkweighers
Storage time of reserve samples as agreed with the individual customer
OUR REGULATORY AFFAIRS TEAM SUPPORTS YOUR MARKET LAUNCH
Consultancy on product labelling
Compilation of safety data sheets (upon request)
Compilation of product information files (PIF), including a safety report compiled by an external safety assessor and CPNP notification in compliance with EU regulation no. 1223/2009, including advice on these issues
Consultancy on market placement and dealings with organisations and institutions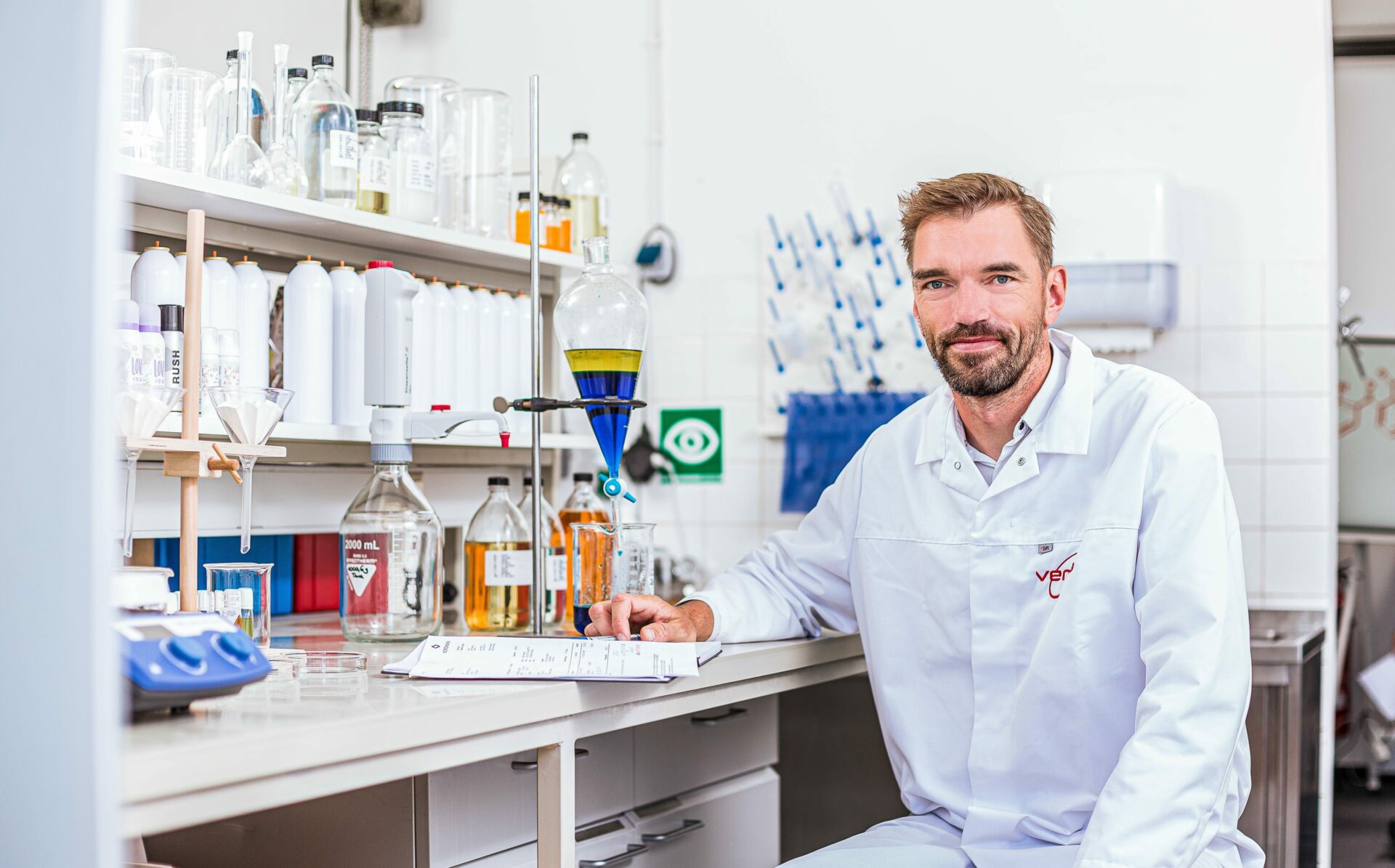 Research & development
Our in-house laboratory is run by Doctors of Chemistry who develop formulas on behalf of our customers. We provide fast, tailored responses to your requests and make your desired product a reality. What's more, we believe that complete discretion and reliability when it comes to formula development and product design are the basis for a successful long-term partnership.
DEVELOPMENT OF FORMULAS AND PRODUCT CONCEPTS IN OUR IN-HOUSE LABORATORY
Basic formula development to fulfill customer requests and requirements
Adjustment and reworking of existing formulas
We offer a wide choice of basic formulas for a range of different applications: we can guarantee a fast time-to-market
Category and innovation management in general: product positioning and claiming
Large network of external partners
ANALYTICS: SAMPLES, TESTS AND DOSSIERS
Production of product samples under the conditions of large-scale production: basis for scale-up
Carrying out of product tests for stability, microbiology, safety and tolerance in collaboration with external testing laboratories
Compilation of product dossiers in compliance with the cosmetics directive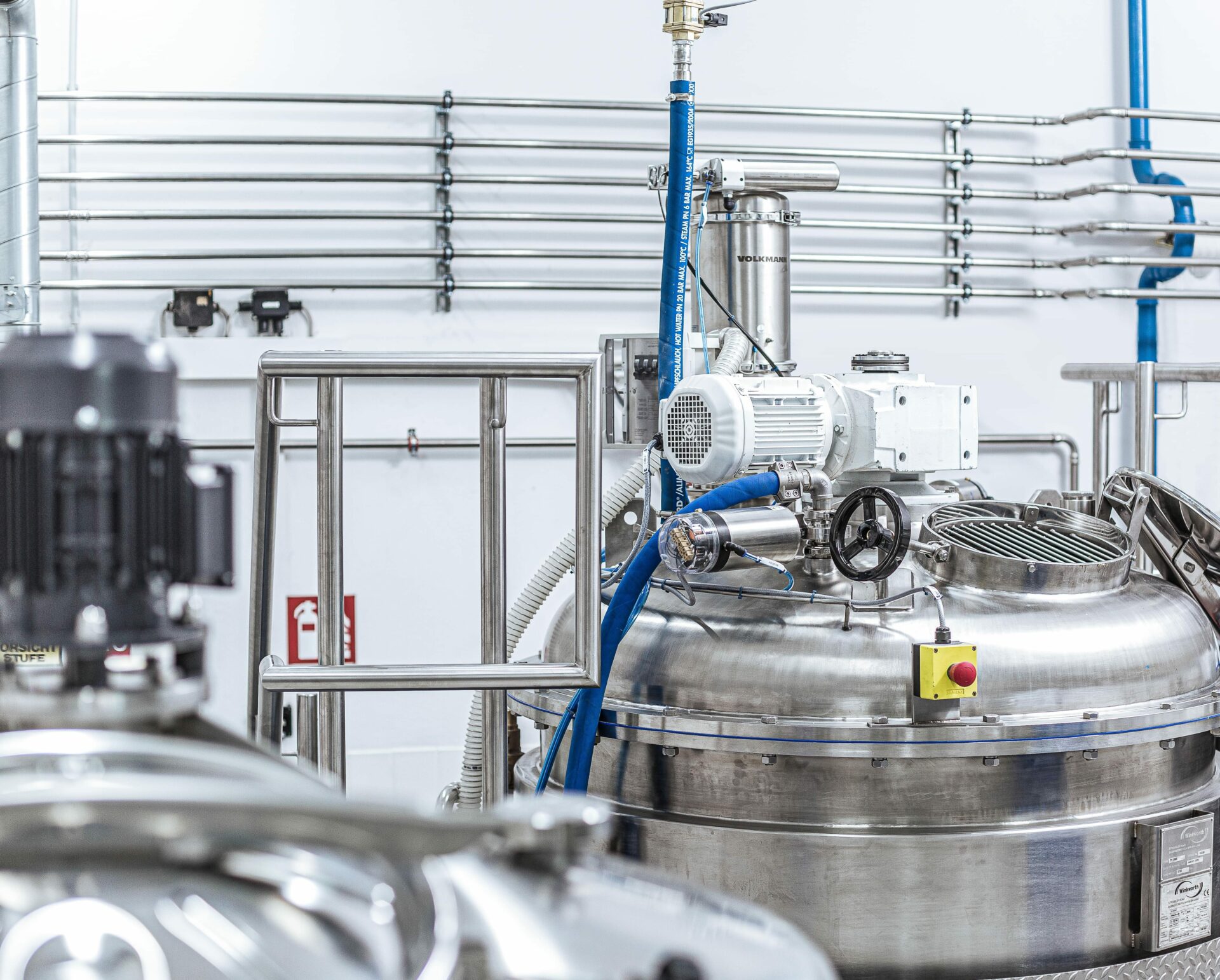 Process manufacturing
The active ingredients are developed as so-called bulk goods in our in-house mixing vessels. This is where your product idea is brought to life and the foundation is laid for the subsequent filling. Maximum flexibility is our hallmark – our process vessels are especially designed for a wide range of batch sizes, product types, and consistencies.
Manufacture of emulsions and liquids as bulk goods
Maximum flexibility regarding batch sizes: batches from 100 kg to 3,500 kg
Weighing and sample-taking under laminar flow: controlled conditions including scanner bookings
Stainless steel vessel from 50 litres to 4,000 litres heated and unheated
Different processing options for suspensions and solvent mixtures (ultra-turrax)
In-house production of demineralised water on two independent units
Transport of active ingredients for cream foams in stainless steel containers and PE inliner bags (closed system)
Bottling
We have four complete filling lines for aerosols and one filling line for liquids on which we manufacture your products. In particular, we are able to produce small or medium-sized batches effectively and efficiently. Before production begins, the unit is checked and cleared for use (identity of the packaging containers, weight, printing, clinch, spraying pattern, spraying to empty the can). In addition to this, we use a range of checks during production to guarantee the highest level of quality at all times in line with our own high standards.
BOTTLING OF AEROSOL CANS
Filling and package assembly of aerosols in cans
100% leak testing by means of a water bath and leak detection
100% automatic weight check with inline checkweighers
100% automatic visual inspections via a camera system
Encoding using inkjet printing
Batch sizes: optimal sizes are between 10,000 and 500,000 units
BOTTLING OF LIQUIDS: REFILL/FLEXIBLE PACKAGING
Filling and packaging of liquids in bag-in-boxes or refill pouches (stand-up pouch)
Minimum order quantity for bag-in-box: at least 500 pieces
Minimum order quantity for refill pouches: at least 20,000 pieces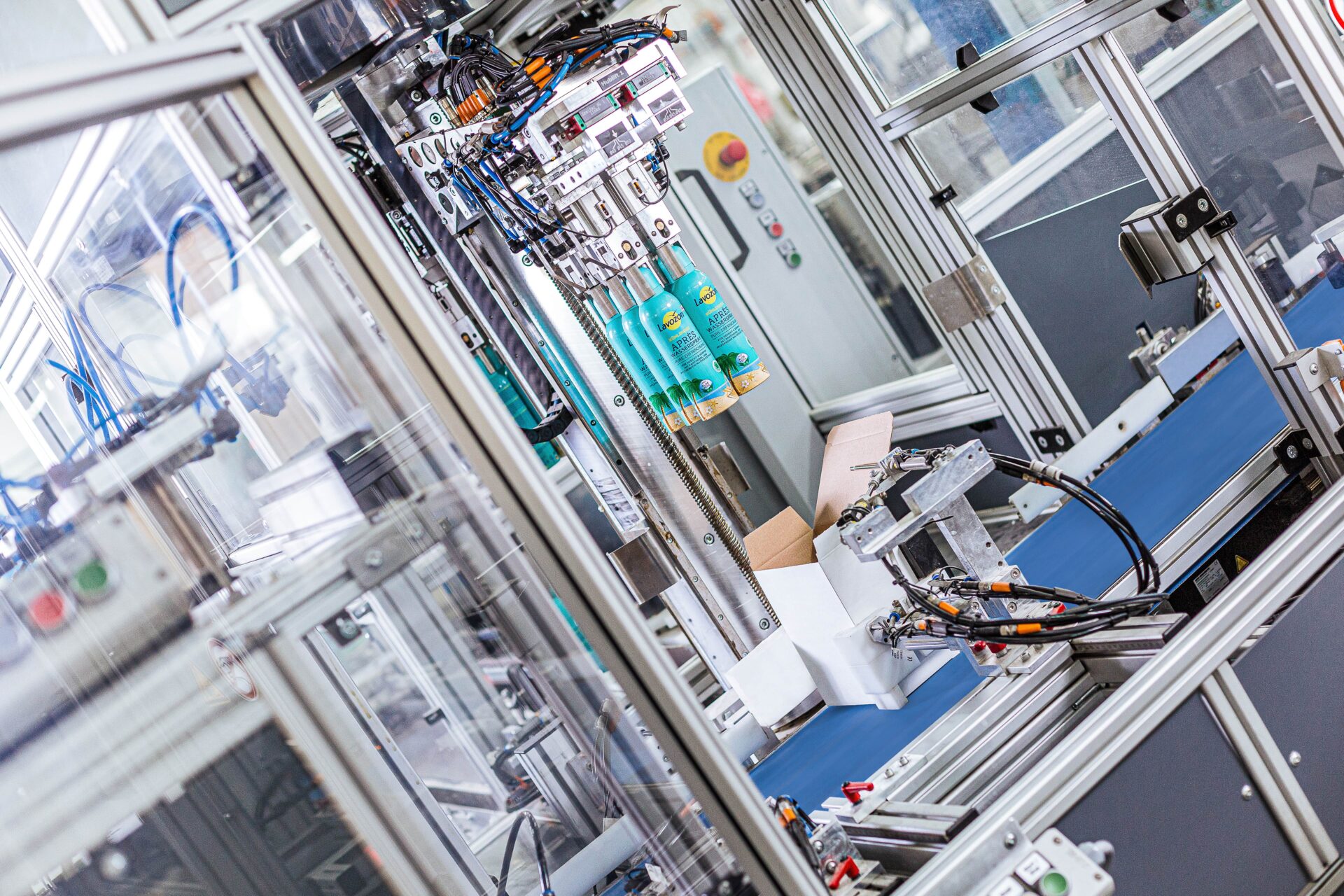 Packaging & logistics
We support you all the way to the shipping of your products and beyond. Our machines enable the packing assembly of your cans, plus the addition of an optional label and case-packing of the finished product. You can also order custom manufacturer solutions for your packaging, which we are happy to take care of for you to meet your requirements.
LABELING, PACKAGE ASSEMBLY, PACKAGING
Labelling of primary and secondary packaging containers (cans, cardboard boxes): paper and PE labels, fanfold
Option of labelling and printing of refill packs (pouches and boxes)
Option of batch encoding: max. 3-line encoding according to your specifications
Package assembly of cans/bottles with instructions for use in EFS
Affixing stickers e.g. as a tamper-evident seal
Consultancy on the realisation of private label products
AUTOMATION
Case-packing of the products into cardboard boxes
Automatic palletisation with collaborative robots
LOGISTICS & TRANSPORT
Provision of shipping logistics and after-sales services
Packaging according to the customer's specifications (normally cardboard boxes on Euro pallets, wrapped)
Limited quantity and hazardous goods transport
Option of collection by the customer
Option of delivery on demand: the finished products are stored in the hazardous goods warehouse of a local shipping company.